Posted on | December 30, 2009 | 4 Comments
As the wind hurls its more miserable and wetter brother, the rain, against my attic windows, I sit and consider the Christmas season just passed.  All in all, it wasn't too bad.
A rather splendid Christmas dinner at my in-laws began the Christmas Waist Expansion in earnest.  Over the next few days, much beer was consumed and the entire second season of Saxondale was viewed on a dark, tea and chocolate-filled afternoon.  In a Caligula-like moment of decadence I scoffed a big bowl of tiramisù while lying in bed.  Possibly not my proudest moment.
I also got to chat with some friends that I don't see often and, from one of those splendid fellows, I acquired this lovely little thing: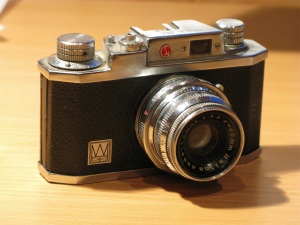 Isn't it cool?  It's a Halina 35X.  Despite that it looks quite snazzy, it's actually a Hong Kong cheapie from the late 50's and is probably worth less than the cost of processing the roll of 35mm film that I'll be putting in.
Before any shooting or processing can occur, however, it needs some TLC.  The shutter seems to work just fine, as does the winding mechanism.  The inside could use a damn good cleaning (to avoid scratching up the film) and ditto for the lens.  The big problem, though, is that the lens barrels are really stiff.  This probably means I'll need to take it apart and lube it up (no Carry On jokes, please).
Why on earth would I want to dismantle and reassemble a forty or fifty year old camera in order to shoot actual film when I have a perfectly good digital SLR?  If you have to ask, you'll never know.  Look at it.  It may be cheapie and it may need a lot of work and I will have to pay to process any images I take but, look at it.  It's a thing of beauty.
And I'm a geek.
Comments