Posted on | October 16, 2011 | 1 Comment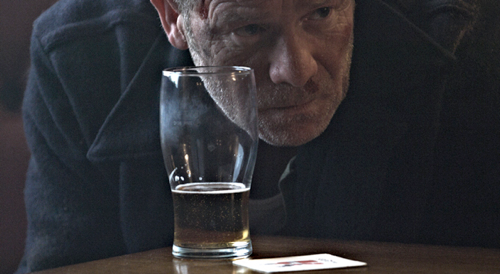 A year or two back, I saw Paddy Considine's short film Dog Altogether and was lucky enough to attend a Q&A with Considine afterwards. He mentioned at the time that he hoped to expand the short into a feature-length film and that we was working towards that.
Well, Dog Altogether was a brilliant piece of work (the BAFTA people agreed with me) and I've been looking forward to seeing what Considine would do with a full-length film.
Tyrannosaur is what he's come up with and, Christ, he hasn't disappointed.
If you've heard anything about Tyrannosaur, you've probably heard about the violence. There is violence. It's real and it's unflinching and it's harrowing. Tyrannosaur has a huge, savage, streak all through it and it can't fail to affect you.
What I hope you've also heard, though, is that it's a brilliantly beautiful film. Ugliness and grime has never looked so beautiful.
Peter Mullan plays Joseph, a man with serious anger-management issues. It would be incredibly easy for that the slip into one-dimensional raging but Mullan's skill as an actor—as well as Considine's writing and directing—never allows this to happen. That Joseph is capable of extremes of violence is clear from the beginning but his regret and his desire to change is beautifully and subtly drawn too. The simmering of Joseph's rage—the hair-trigger that could release at any point—keeps you glued to him all through the film.
Olivia Colman too, is truly excellent. In common with many, I know her mostly from Peep Show and Mitchell and Webb sketches. Her performance here couldn't be farther from that world. Hannah, Colman's character, has her own problems with violence. A devout Christian in an abusive marriage, the humiliation and suffering she undergoes is almost beyond belief but it's so real, so authentic, that we've no choice but to believe it.
It's hard to watch Tyrannosaur. Very hard. But you can't take your eyes off the screen. To do that would be to let down these characters.
Considine has created something amazing here. The last time I saw the bleakness and griminess of human-nature so beautifully captured on film was probably the Red Riding films based on David Peace's books. Tyrannosaur doesn't have the same nihilism and darkness as those, though, and despite its seriously disturbing subject matter, actually leaves you with a little hope at the end.
Astonishingly well-written, wonderfully filmed and acted. If you haven't seen Tyrannosaur, remedy that. I want to see it again.
Comments