Posted on | February 2, 2010 | Comments Off on A Nice Cup Of Tea And A Book: 1980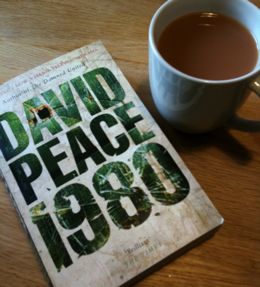 OK, so I lied.  I said I'd need a break between 1977 and this, David Peace's 1980.
It seems I didn't.
I tried to take a break.  I started two other books and gave up a dozen pages in.  They were too light.  My brain had grown accustomed to the distressing world of Peace's Yorkshire and was unable to turn itself to something less somber and grim.
That was slightly worrying.
As it turns out, 1980 is slightly (very slightly) less bleak than either of the previous books in the series.  Less bleak than 1977 – I think – because its protagonist is not so tainted as either Bob Fraser or Jack Whitehead (77's 'heroes'); his point of view a little less grimy and sordid. Less bleak than 1974, possibly, because even the grisliness of the Ripper murders holds less emotional resonance than the tortures and murders of the children in the earlier book.
Don't think it's a walk in the park however.
Peace brings more of the prose we're used to; expressive, personal, and beautifully burrowing. We're with our new protagonist, Peter Hunter but he's slightly more removed from what's come before. For all the pain and lies and secrets that are in Hunter's head, we're just glad that it's not so awful in there as in previous books.
Peace makes some progress towards winding up this tetralogy (quadrilogy isn't a real word) in 1980 and I'm looking forward to finally getting to 1983.
This time, however, there will be something between this and the next Peace book.
Comments