Posted on | January 21, 2010 | Comments Off on A Nice Cup Of Tea And A Book: 1977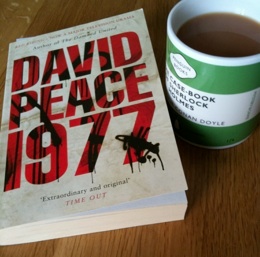 It's grim up north*
At least it is in David Peace's 1977. Bleak, gloomy and darker than closing your eyes at the bottom of an ocean where even those weird, ugly fish are scared to go.
Awful, terrible, beautiful darkness.  Peace just won't leave you alone. His words gnaw and eat at you and his story remains in your, now fetid, brain for a long, long time.
I read 1974 a few months ago and needed a bit of time before moving on. I'll need more time before moving to 1980. These are not easy-reads but they are remarkable reads.
Much has been made of Peace's 'stream of consciousness' prose and it is beautifully lyrical and engaging.  The story focuses on the Yorkshire Ripper murders and is told from the first-person perspective of two different characters (two characters from 1974).  This throws you for a few seconds as you process the first character switch but it's easy to accommodate.  Oddly – and adding to the disorientation – while both characters narrate their 1st-person story in alternating chapters, one does so in the present-tense and one in the past-tense.
And the violence…  While there was plenty of violence in my last read, No Country For Old Men, it was more distant; slightly more stylised. Peace's violence is in your face (and your hair and under your fingernails).  It's visceral and savage and affects you more deeply. Like I say, it's difficult to forget.
I'm two thirds through and I'm now going to sneak off somewhere quiet and finish it.  If I don't post again, it's because I'm huddled in a foetal position, weeping quietly and despairing.
The keen-eyed among you will have noticed my new Penguin Classics mug.  I recently treated myself to two of them. Keep 'em peeled to see the other make an appearance soon.
*I'm certain I'm not the first to have made this, rather weak, joke.  Apologies.
Comments