Posted on | August 1, 2014 | Comments Off on The Pidgeon House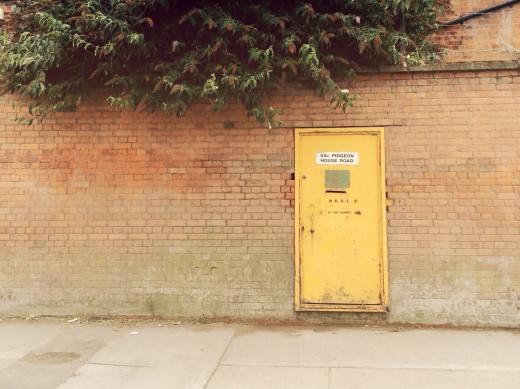 Through heavy industry and shipping depots, past the travellers' caravans penned in place by the massive concrete tank-traps designed to stop travellers parking their caravans, is Pidgeon House Road.
It's all the brother's fault. "Let's go for a stroll down the end of the South Wall, " he said.
We encountered the intriguingly named, Pidgeon House Road along the way. He was good enough to research and found this:
A man named Pidgeon who lived in the wooden house and acted as caretaker of the works and tools, finding the place become such a public resort, fitted out his quarters as neatly as possible, and, assisted by his wife and family, made arrangements for supplying meals and refreshments to visitors. He also purchased a boat to hire to his guests, had it painted and finished in an attractive manner, and as he dealt with only the best class of visitors, his rude hostelry soon grew to be a noted resort of distinguished citizens and wits, while the owner found himself on the fair road to fortune.

His house came to be known to all the Dublin folk as "Pidgeon's House," or the Pigeonhouse, and even after he and his family had gone the way of all flesh, and the old building, having served its purpose, had fallen into decay, the name was perpetuated in the title of the stronghold that in after years rose over its ruins.

From Weston St. John Joyce, 1920
Splendid.
As it turns out, the end of the South Wall is a ten mile round trip from town. A post-'stroll' pint of Guinness has seldom been more welcome.
Comments