Posted on | July 3, 2011 | Comments Off on A Nice Cup Of Tea And A Book: Room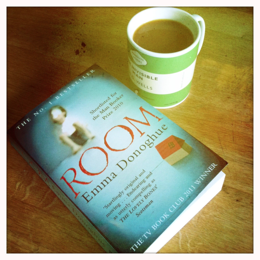 I'm currently reading Room by Emma Donoghue. Room is the story of a five-year old boy, Jack, and his Ma. They live in a single, locked room. Jack has spent his entire life in this eleven feet square world. He was born here and has never been outside. He and his mother are prisoners.
The story is told from Jack's point of view and is written, for the most part, in a five-year old's voice and with a five-year old's understanding of events. We learn about Jack and his mother's daily routine; how they fill their days in this confined space. We have glimpses of the man keeping them captive and we find out something of Jack's mother's past and how she came to be trapped in Room.
It's certainly an emotional read. It grabs you pretty hard and pulls at you, making you want to keep reading. I suppose you'd call it a page-turner (if you were a twat).
Jack's relationship with his mother and with the objects in Room—even with Room itself—is beautifully drawn. The scene-setting at the beginning nicely conveys Jack's unusual institutionalisation. He's never known anything else. He's not even sure if outside is real.
The child's voice narration does a good job of getting you into Jack's tiny world. I felt like it 'slipped' from time to time and there were a few occasions where I had a hard time reconciling what Jack understood and what he didn't. I sometimes felt there were things he didn't comprehend that he should have and vice-versa. Every now and then I thought "he knows that, why doesn't he know this?" I'm nit-picking a little here to be honest and a story like Jack's has to be granted a certain amount of leeway for suspension of disbelief. I mention it only because it pulled me out of the story a couple of times.
That said, Donoghue was more than capable of pulling me back in. The tension she wound and wound as Jack and his Ma worked on plans for escape was brilliantly communicated. That twat who said 'page-turner' earlier would probably say 'edge of the seat'.
Room has accolades bursting from it. Man Booker shortlist, TV Book Club and, although I've peeled off the sticker informing me of the fact, the Orange Prize shortlist too. All that certainly carries a hefty clout. And it's deserved. Room is powerful and moving without straying into sickly or depressing (which, given its subject matter it could have done). It's also gripping enough that I'm wondering what I'm doing writing this when I still have some left to read.
Pop it on your list.
UPDATE: I should really finish a book before doing one of these posts. About two-thirds of the way through I felt Room lost focus a bit. No spoilers but the back end of the book doesn't have the intensity of the beginning. I thought the narrator's 5-year old voice/understanding slipped quite a bit more as things went on too. And, it may be an odd observation, but, as things moved towards their end, it seemed like pretty much every adult was a dim-witted, selfish, arsehole.
Or it might be just me.
A game of two halves, then. One great, one a bit poor by comparison.

Comments