Posted on | April 9, 2011 | 2 Comments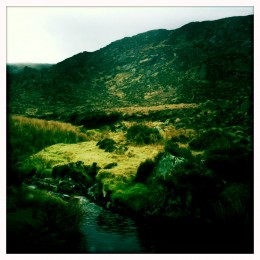 Managed to get out for a stroll in the hills last week. Lough Firrib is a tiny lake on a rocky plateau in the middle Wicklow.  For the most part, it's possible to follow a brook up one valley, break off up a rocky slope to the lough, and head down another valley picking up a second brook. This image is from the first – Glankeera Brook.
Thursday was supposed to be a nice, sunny day but, as frequently happens, the Wicklow Mountains hosted their own micro-climate. A damp and foggy micro-climate.  Cloud cover remained low for most of the walk and large parts of it were down to fifty-metre visibility with walking being done in compass-guided chunks of that length.  The steep scramble from east of the Lough was the most foggy but I'm proud to announce that my sterling navigational skills got us right on target.
Here and there, the cloud lifted for periods though and, fog or no fog, it was a very pleasant walk. Haven't been there before but Lough Firrib is quite beautiful. Small and calm, nestled amongst bog and granite. Might visit again when there's a hope of actually seeing the view from the top.
Hike Report
Going: Boggy but reasonable, very steep and rough final scramble.
Sandwiches and tea: Brilliant.
Comments