Posted on | March 20, 2011 | 2 Comments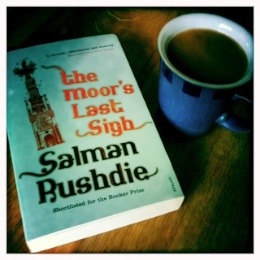 I've been more than a little remiss in keeping my eager Tea/Book community updated of late. I'll state, now, that I intend to work harder at taking funny little photos of the books I read and the tea I drink but we all know that I'll probably get distracted by something shiny or by porn and forget.
For now, though, here's what I've just started. Salman Rushdie's The Moor's Last Sigh.
I've never read Rushdie before. Obviously, I'll eventually get around to the obligatory Satanic Verses but I figured this might be a less clichéd introduction to Rushdie's work.
Sprawlingly intricate seems to be the term that works best here. It's a dense family history, across four generations of the da Gama/Zogoiby family, told by Moraes Zogoiby – the Moor of the title. The family histories are woven into India's wider history and, if some of the stories I've read are to be believed, this was enough to annoy those with their own particular views on aspects of the subcontinent's past. True or otherwise, it wasn't enough to lead to a new round of death threats against Rushdie and hasn't interfered with his abilities to take phone calls from U2 (Bono be praised).
So far, The Moor's Last Sigh is deep and elaborate and beautifully written. I think I'll enjoy it.
Comments