Posted on | February 27, 2011 | 6 Comments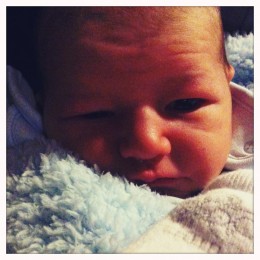 So, in childbirth news, this thing on the left arrived a week ago.
This is New Kid. He's a boy and, added to our six-year old girl, he completes the set. Sadly, he has no beard – even at a week and a day, he's already a disappointment to his father. Puberty seems a long way off but I suppose I've got to give him the benefit of the doubt until then. He'd better be bearded by thirteen or I'll thunder about the house bellowing, "I have no son!"
I realise that none of you care a jot about the small, squealing progeny of random internet strangers like me but there's an actual law that forces me to foist images and pointless information about my offspring on passers-by like you.
Sorry.
Incidentally, I mentioned it on The Twitter but he does look disconcertingly like Ray Winstone in this photo, doesn't he? I'm considering a paternity test.
Comments