Posted on | September 14, 2010 | Comments Off on Stuff That Makes Me Happy: Grinderman 2*
*There is a sub-header here: Stuff That Makes Me Happy (And Then Incredibly Angry And Frustrated And Then A Bit Happier Again).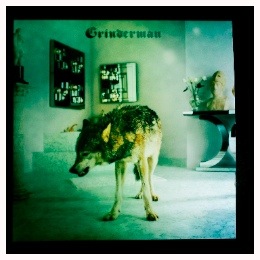 Let me expand on that.
Grinderman 2 is the latest album from, funnily enough, Grinderman. And Grinderman, for those not in the know, is what Nick Cave and The Bad Seeds travel under when doing stuff that's a bit different to their usual stuff. Keeping up? Basically, Grinderman is The Bad Seeds in freakier, crazier, angstier, erection-sporting, garage form.
And it's brilliant.
The first, eponymous, album was fantastic. All spiky and wrong and beautiful and noisy. I have been looking forward to this, Grinderman 2.
And not just because of the music for this is a rather special box set thing. It includes an actual record. Remember them, big black circles? A record – splendid. It also contains a beautiful, big, booklet full of lyrics and crazy, creepy artwork and a poster, should I want to regress to a troubled teen and decorate my bedroom. Lastly, there's a CD for those of us who like records but also want to cram the songs into our iPods for out-and-about listening.
That's where it gets annoying.
The CD won't read. It's bolloxed. Computers chew on it for a while before spitting it out, disgusted, and CD players either don't read it at all or try to play it in a stuttering, indecipherable manner.
I went from being an excited, elated, musogeek to being a furious, angry bastard in the space of a couple of minutes this morning.
Amazon…
This was on pre-order for the last month and it arrived this morning. When I couldn't play the damn thing, I (incredibly grudgingly) began the Amazon returns process. Having hit a snag along the way in that process (that I won't go into as I don't really feel it's fair to tip off dishonest people to possible ways to scam Amazon), I emailed their customer service.
I then grumped around for a couple of hours cursing Amazon.
That was until, however, I received a response telling me that they're, very kindly, sending a replacement without my having to go through the annoyance of shipping returns to them.
Result.
I now feel guilty for the plagues, poxes and various sexual ailments I wished upon Amazon. I take them back, cosmos. Please keep them for the next time someone or some corporation annoys me (give it an hour or so).
Let the word go forth from this time and place, Amazon Customer Services have played a blinder on this one and I really appreciate it.
Now, if they can just adjust the glacial trudge of time to speed that period where the package travels through the mysterious realm of the postal system, I'll be really happy.
Comments