Posted on | January 31, 2010 | Comments Off on Gerry 1, Weather 1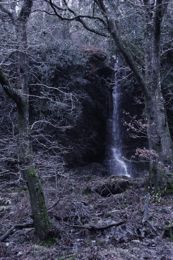 1-all.  That's the score in the last two weeks as far as my having a ramble in the hills is concerned.
Last week, I took a walk up Derrybawn.  I'd been there before but figured that it might be a good route to get into the hills before all the snow had gone.  And it was a good route… more or less.
The route to the summit of Derrybawn – or, at least, some of the way – is a narrow, rocky track through deep heather.  Last week, with all of the melt-water, this was a narrow, rocky stream.  That is, the parts that weren't covered in snow.

If you've ever walked over uneven ground, deep heather and sometimes-streams that have been covered in a thick blanket of snow, you'll know that the going is slow and difficult. Although much of the snow had melted, there were still large drifts – some of which were hip-deep.  Not knowing what's under the snow makes walking on it a bit nerve-wracking.
Still though, good fun.  I took a few photos along the way (mostly with no snow, oddly enough).  They're on my Picasa page if you're interested.  Like the day, the photos were mostly grey and dismal and I've played with them a little before uploading – mainly out of boredom.
Chalk up one for Gerry.  Gerry:1
Then, a couple of days ago, I attempted another trip to the mountains.
This wasn't so successful.
Thick fog.  Thick snow.  The route I'd planned required crossing a large, de-forested patch and it was utterly treacherous while covered in snow.  No idea where I was stepping. Broken branches, tree-stumps, streams, mossy rocks, and many other delights made things very difficult – and a little dangerous.
In addition, the fog had reduced visibility to not much more than 50 yards.  With a lot of open mountain to cross, I called it.  It was a back-out.  I'm relatively confident in my compass-work but I figured it wasn't worth the twin risks of broken ankles and getting lost in the fog.
Weather: 1
Rematch next week.  Hopefully.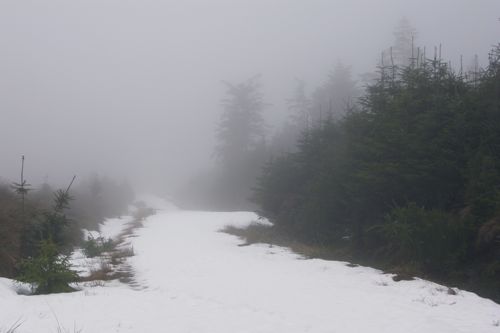 Comments