Posted on | August 28, 2008 | Comments Off on They were the smallest ears I could find
Now that I am unmasked and no longer anonymous, there is little need for further subterfuge. So then, here I am in all my avatary glory.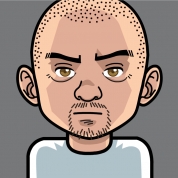 It was made via this place (which seems to be down at the moment).
In reality, I'm not quite so youthful-looking and there is usually more stubble on the rest of my face than shown – the editing options were finite. Other than that, a reasonable likeness I think.
Oh, and my ears are not so big in real life.
Ladies, form an orderly queue.
Comments