Posted on | August 14, 2008 | 3 Comments
My daughters turned four the other day – a baby no more.  She celebrated in fine style with much merriment and sugary treats.  She also drew a splendid picture of me.  A fine likeness (not that most of you know) and one that now holds pride of place on the fridge door.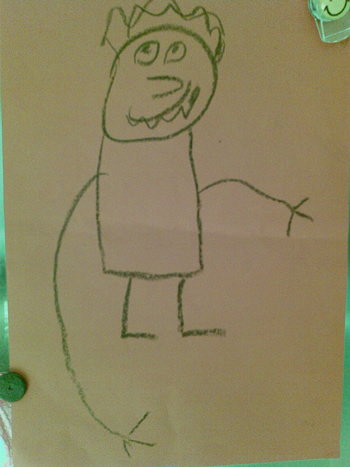 She's captured me, I think.  Incidentally, that huge arm is no accident.  She specifically pointed out that it was dad's big arm.  I was under the impression that my arms were fairly similar in size but apparently not.  The reasons were explained to me:  that is the arm that she likes to cling to, arms and legs crossed around the forearm monkey-style, while I lift her in a sort of 'biscep curl' action.  I did it once when she was little and she still asks me to do it now and then.  It gets harder as she gets bigger and I get older.
Comments